Storage and humidity
Your Heritage guitar is sensitive to changes in the environment. Do not subject it to extreme weather conditions. Overexposure to sunlight will also cause stain finishes to fade.

We recommend keeping your guitar in its case when not in use, and storing it in room temperatures of 70–74 °F with a relative humidity level of 40–45%.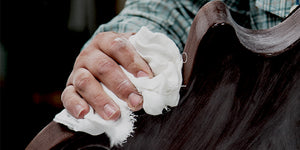 Care and cleaning tips
Use a soft, clean and dry cloth to wipe down the entire instrument and its strings thoroughly. We recommend a trusted polish for guitars with satin or nitrocellulose finishes.

For nitro-finished guitars, remove your strap after each play and avoid using guitar stands/hangers with chemically active synthetic/surgical tubing. Extended contact with leather and synthetic materials may cause chemical reactions and dissolve the finish.
Fretboard maintenance
Only use a trusted fretboard oil to clean and condition your guitar's fretboard. A good toothbrush or fine steel wool can help to clean tarnished frets and remove any dirt buildup.

Corroded or worn out strings will also cause tone loss. This can create tuning instability and intonation issues. We highly recommend keeping a fresh set of strings on your guitar as much as possible to get the best tone from it.